Hannahbee's Sylar/Claire fic recs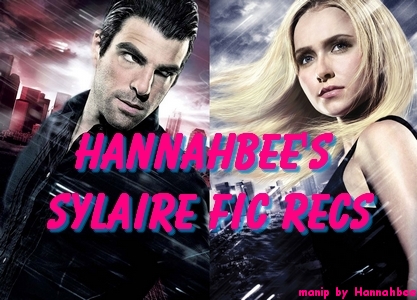 ---
Three Mothers Noah Gray Never Had And One He Did by hiding duh complete
This is all about Sylar and the kid.
---
Getting Older Alone by Asteria complete
A dialogue at some indeterminate point in the future. Doubledrabble.
Hoppily Ever After by cameroncrazed complete
Written for challenge #14: spring at sylaire_chall.
The Wolf and His Goddess by BlueWhitney complete
Sylar has Claire's power at his fingertips--but is it what he really wants? AU after S3, hints of Sylar/Claire, Peter/Claire.
Wishlist by hiding duh complete
Maybe he passed.
---
Dirty Things by hiding duh 9/? NC-17
Sylar/Claire, Claire/Nathan. Story of a boy and his toy.
Endless by devilishlysas complete NC-17
In a war torn far future, Sylar looses hope and seeks out his touchstone. Only to find that nothing can stay the same forever...even them. Warnings: violence; graphic imagery; spoilers seasons 1-3.
Heroes of War by devilishlysas complete NC-17
An end of the world Future fic. 'Time makes monsters of us all, some just hide it better.'
Imbalance by mint poppies complete
In which Claire endures Sylar's bedside manner while he pries bullets out of her body and comes to a decision. Post-season finale, some spoilers.
In Another Life, In Another Time by leafiephoenix 14/??
AU: Claire Petrelli is currently a Harvard Law School student. She moves into her boyfriend's apartment only to meet her eccentric, socially inept neighbor, Gabriel Gray. An unlikely friendship begins, but could it be the start of something more?
Initiation by hiding duh complete NC-17
Even a serial killer can't resist a girl in uniform.
Uncles for Dummies by hiding duh complete NC-17
A good girl can change.
---
Original Content © 2007-2021 Hannahbee